No More Nice Girls Productions
NMNG is a non-profit media production group designed to develop and produce intelligent inter-cultural films and videotapes, multimedia, web sites and series' for distribution via:
~ TV, cable, Internet, CD Rom, DVD, satellite
~ theatrical, educational, museum, gallery and other artistic venues
NMNG is dedicated to creating a multi-faceted research, development, production, artmaking and, distribution group including:
~ a facilities cooperative
~ screening/ show spaces for artists of many kinds who share our basic vision.
Artists will participate in:
~ skills/facilities exchanges and/or residencies
~ community media education
~ media literacy programs
~ community arts enrichment
Our vision of inter-cultural media includes individual and collaborative production and distribution of visual and other digital media art which is:
~ entertaining, smart, analytical and visually exciting and politically independent
~ We will raise funds to write, shoot, design, edit and launch/ distribute our work, hiring additional writers, musicians and other visual artists and technicians as necessary on a project by project basis.
~ We prize freedom of speech for all. This must include access to the most advanced, "popular" and contemporary means of speaking such as video, internet, film, broadcast, satellite, etc.
~ We will create fiction and non-fiction as well as abstract work which dares to imagine a world in which democracy is the given, forms are open to continual reinvention and subjects speak for themselves.
No More Nice Girls Artists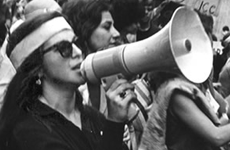 Joan Braderman
Joan Braderman, award-winning video artist and writer, has been involved with film and video as a screenwriter, artist and producer for over twenty-five years. Born in Washington, DC, she holds degrees from Harvard and New York University. Her works are held in the permanent collections of museums such as the Stedelijk in Amsterdam, the Centre Pompidou in Paris and the Museum of Modern Art in New York City. Joan studied 16mm filmmaking in school, learning to shoot and edit black and white reel-to-reel video in NYC in the early 70s at various Media Access Centers. In 1975, Joan joined the group that founded ground breaking journal, HERESIES; A Feminist Publication on Art and Politics.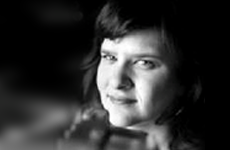 Crescent Diamond
Crescent graduated from Hampshire College with a BA in Film/Video and Political Economics. Her thesis was a documentary about women weavers in Guatemala. She continued her education at the Bay Area Video Coalition and Film Arts Foundation in San Francisco.
Ms. Diamond is an experienced Producer and Production Manager with advanced video production and post-production skills. She has been producing in the field of film and TV as well as producing live events in the Bay Area and elsewhere since 1998. Past projects include independent feature films, corporate marketing videos, documentaries and a monthly television series. Crescent worked as a Programming Coordinator and Final Cut Pro Teacher at Berkeley Community Media for three successful years. She has experience fundraising for independent films and non-profit organizations.
Dana Master
Video, Installation and Digital Artist is also a professional film/video editor. She works on Avid and other high-end and low-end editing systems. Dana has recently moved to Philadelphia where she is currently teaching at the Philadelphia Art Institute and freelancing as camerawoman and producer. Master Co-Directed JOAN SEES STARS and VIDEO BITES.
Stashu Kybartes
Video and installation artist is currently teaching at the University of Michigan in Ann Arbor. He spent last year at Hampshire College where he taught and worked on editing his Lithuania piece at Hampshire's Digital Video Archive. Kybartas is known for his Lithuania-US installations as well as the works he made humanizing AIDS during the early years the desease was known in the US. DANNY, his single channel piece about a young AIDS victim has been shown often nationally and internationally.